Product Description
What are the classifications of non-woven fabrics?
1. Spunlaced Nonwovens
Spunlace technology is to spray high-pressure micro water into one or more layers of fiber nets, so that the fibers intertwine with each other, so that the fiber nets can be strengthened and have a certain strength.
2. Thermosetting Nonwovens
Thermal bonded non-woven fabric refers to the addition of fiber like or powder like hot-melt bonding reinforcement materials to the fiber mesh, which is then heated, melted and cooled to form a cloth.
3. Non-woven fabric made of pulp by air flow
The air formed nonwovens can also be called dust-free paper and dry process paper-making nonwovens. It uses the air flow to form a net to loosen the wood pulp fiberboard into a single fiber state, and then uses the air flow method to make the fiber agglutinate on the net forming curtain, and then the fiber net is reinforced into a cloth.
4. Wet Nonwovens
Wet non-woven fabric is to loosen the fiber material in the water medium into a single fiber, at the same time, mix different fiber materials to make fiber suspension slurry, the suspension slurry is delivered to the mesh forming mechanism, and the fiber is formed into a mesh in the wet state and then reinforced into a cloth.


The self adhesive non-woven fabric produced by our company is used for the joints of all kinds of carpets and floor mats, with good adhesion effect and not easy to fall off.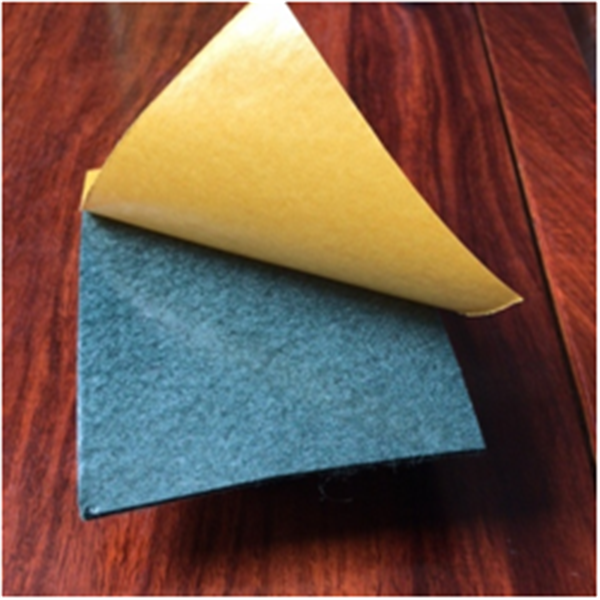 About chromatic aberration
All products are shot in kind. We will try our best to make the pictures consistent with the real ones. However, due to factors such as shooting light and computer display, etc,
As a result, the products and pictures you see are slightly different. Please understand.
Needle punched cotton is made of high-quality polyester staple fiber. After several processes such as cotton feeding, cotton blending, opening and carding, it has many functions such as flame retardant, heat insulation, heat preservation, sound absorption, shockproof, oil absorption, water absorption, pollution prevention and so on. Finally, it is processed by needle punching machine into a solid, flat and cloth like filling material with mutually wrapped fibers.